Traveling to Joshua Tree? Here are my recommendations as a style hunter, adventure seeker and long-time lover of the high-desert.
When seeking a sacred space, the Mojave Desert in California ranks high on my list. It is often the first place I come when I desire an emotional, physical, and mental reset… The wide open spaces, resilient landscape, and brisk breezes always wash clean my mindset and refresh my energy.
The desert is where I come when I want to be reminded of who really I am.
After many personal, private client, and group retreats here, Joshua Tree — and the nearby town of Yucca Valley — have become like old friends, and today I want to share some of my favorite finds, trails, and delights in this totally unique desert area.
GETTING THERE
To get to the Joshua Tree area, you'll have a drive ahead of you, even if you fly in. The closest airport is in Palm Springs International (PSP) – about an hour 15 minutes from the West Entrance of Joshua Tree National Park. The next closest airport is John Wayne International in Santa Ana (SNA) – about a 2 hour drive.
Most folks travel in from the LA or San Diego area (about a 2 hour drive from either), which means you'll make your way to the 10 freeway.
From where we live in Northern San Diego area, we take the 15 North to the 215 North to Highway 60 East, which merges onto the 10.
Once you're on the 10, watch for exit 117 for CA-62 toward 29 Palms/Yucca Valley. This part of the drive is often accompanied by gusty winds (hinted at by the veritable city of wind turbines you'll drive through).
Highway 62 leads you through three desert towns full of vintage stores and thrift shops; Morongo Valley, Yucca Valley, and finally, the town of Joshua Tree.
WHERE TO STAY
For better or worse, this area is an absolute MECCA for AirBnBs, and you can find a space for nearly every budget, from a private room all the way to an entire desert estate. We've stayed in many different places, and I'll link a few favorites below… but here's what I've learned to look for in AirBnB listings in Joshua Tree, after a few less-than-stellar experiences:
Exterior as well as interior photos. The interior photos can mislead you to think that the home is more updated and private than it actually is.
Property is on acreage to explore. This ensures that the home is not in a funky subdivision, of which there are a lot!
Lots of natural light and windows. The light in the desert is stunning, so you'll want to enjoy it as much as possible, inside and out.
Hot tub for stargazing. While this isn't an official dark sky area (like Sedona is), the night sky out here is spectacular and I highly recommend enjoying it from a steaming hot tub!
Furnished to an elevated version of your taste. So you can steep in that frequency and allow the desert magic to align you with more of the same.
Positive reviews. I rarely book a space that has less than 4.8 stars on AirBnB. If I can, I book with Superhosts who are highly invested in positive guest experiences.
Convenient location. Here, that means booking a place in Yucca Valley or Joshua Tree, rather than Morongo Valley or Landers, which will require much more drive time to get to the places you want to see.
FAVORITE BnBs:
I've personally stayed in or hosted retreats in these spaces and can vouch for an incredible experience!
Zebra Shadow in Joshua Tree – Architecturally stunning, we've admired this place every time we drive into the National Park – and we finally got to stay here! It's gorgeous inside and out, but fair warning: the kitchen cookware leaves a lot to be desired.
Hawkeye Dome in Yucca Valley – super sleek and modern dome house with STUNNING views, more than 100+ acres of raw desert to explore, and a cedar hot tub with limitless stargazing.
Joshua Tree Geodesic Dome House in Joshua Tree – is a bohemian paradise, complete with an in-house popup shop. You can even inquire about purchasing the one-of-a-kind vintage finds throughout the space.
The Ridge at Joshua Tree – the location of our first desert photoshoot, with drool-worthy furnishings and a dreamy sunset view into the Joshua Tree valley.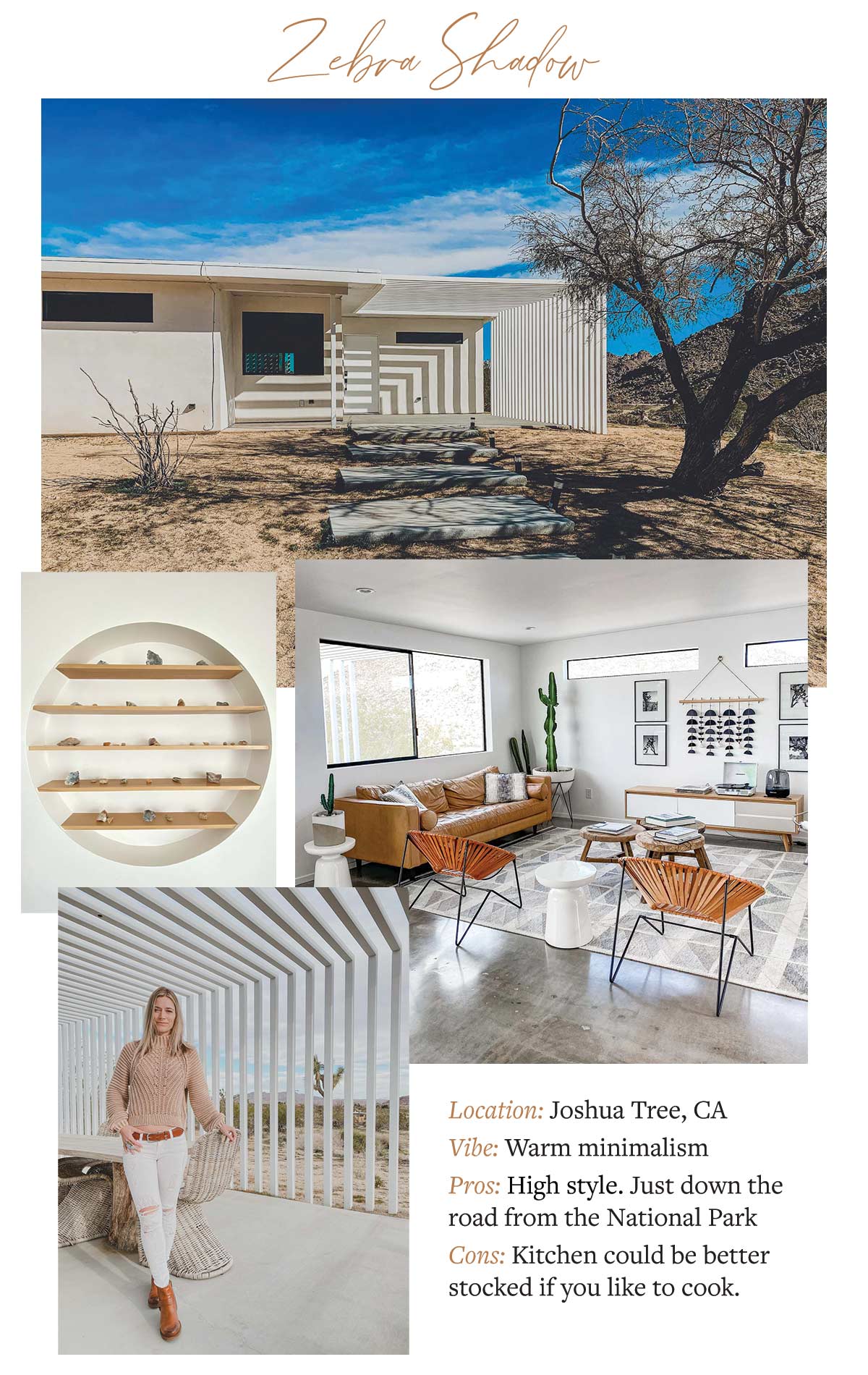 And, though I haven't stayed here yet, these locations are on our short list for next time we head to the desert. (These are often booked months in advance and require a bit of a budget, so plan ahead!)
CAMPING
If camping is more your speed, then the campgrounds in Joshua Tree National Park will not disappoint. Sites can be booked out a few months in advance, especially in March-May and September-October, so be sure you make a reservation to guarantee yourself a spot.
Our favorite campground (and the place where my husband and I declared our undying love for each other) is Ryan Campground. The spaces on the backside of the campground (Sites 11 and up) offer stunning moonrise and sunset views, a trailhead that leads off into the desert for a lovely meander, and great rock formations for scrambling (at your own risk).
We love sites 11, 12, and 13 and always try to book one of them when possible.
To camp inside the national park, you'll want a park pass (purchase online here). As SoCal locals, we visit this area multiple times a year, so we purchase the $80 multi-agency annual park pass, that allows us into any other National Park for the year, too. Otherwise, it's $30 for a 7-day pass or $55 for the year (into this park only).
I highly recommend taking the route through Yucca Valley and Joshua Tree and entering the park through the West Entrance. There's a visitor center on Park Blvd. if you want to learn more about the park before winding your way toward the entrance gate.
Be prepared for a potential wait of 15-30mins (or more at peak season) for your turn to check in at the ranger station. And note that there is little-to-no cell service once you're in the park – so make sure you've got a full tank of gas.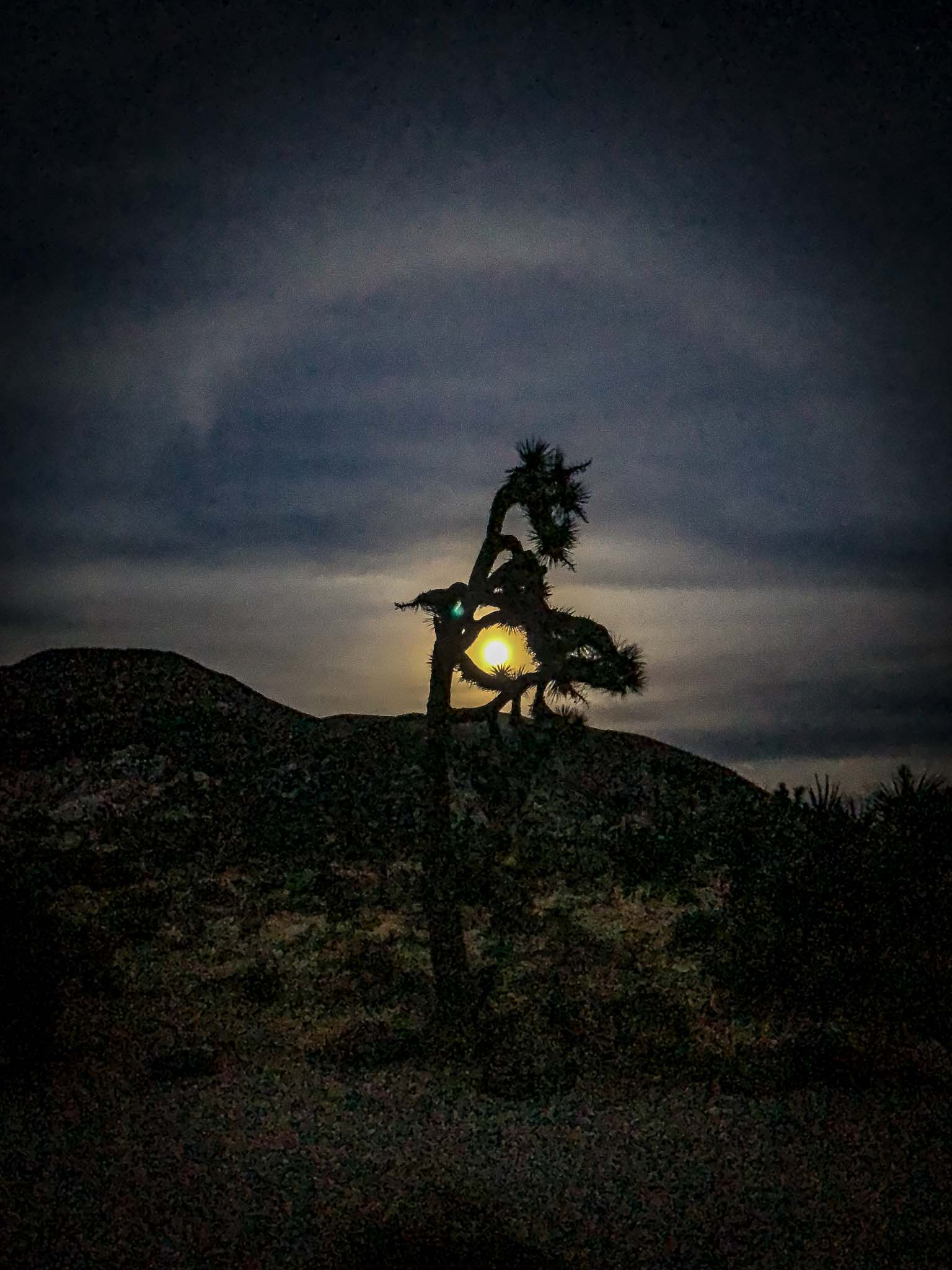 Moonrise at Ryan Campground, Joshua Tree National Park

Sunset at Ryan Campground, Joshua Tree National Park, with my ghostly daughter peeking in.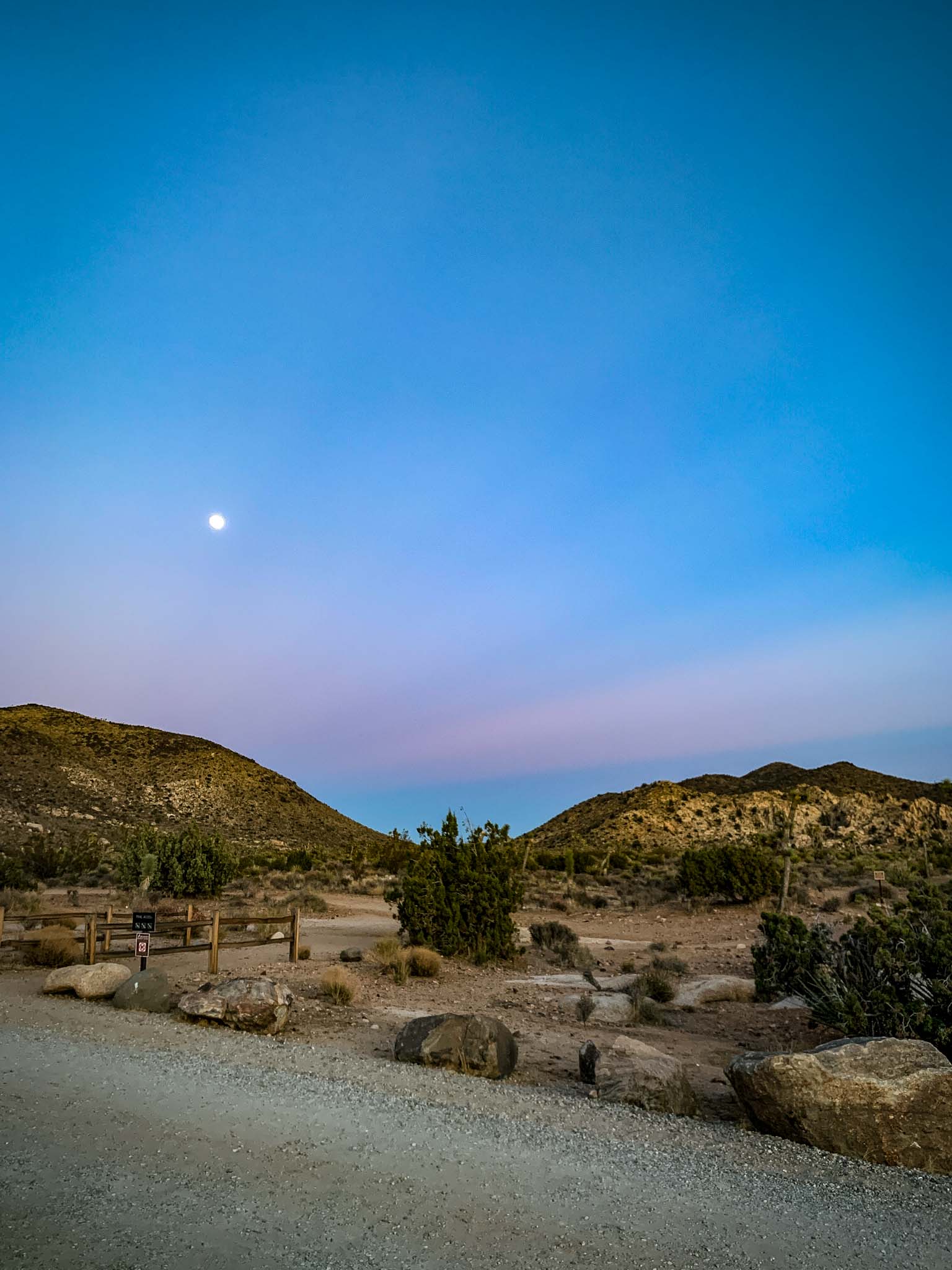 Trailhead at Ryan Campground, Joshua Tree National Park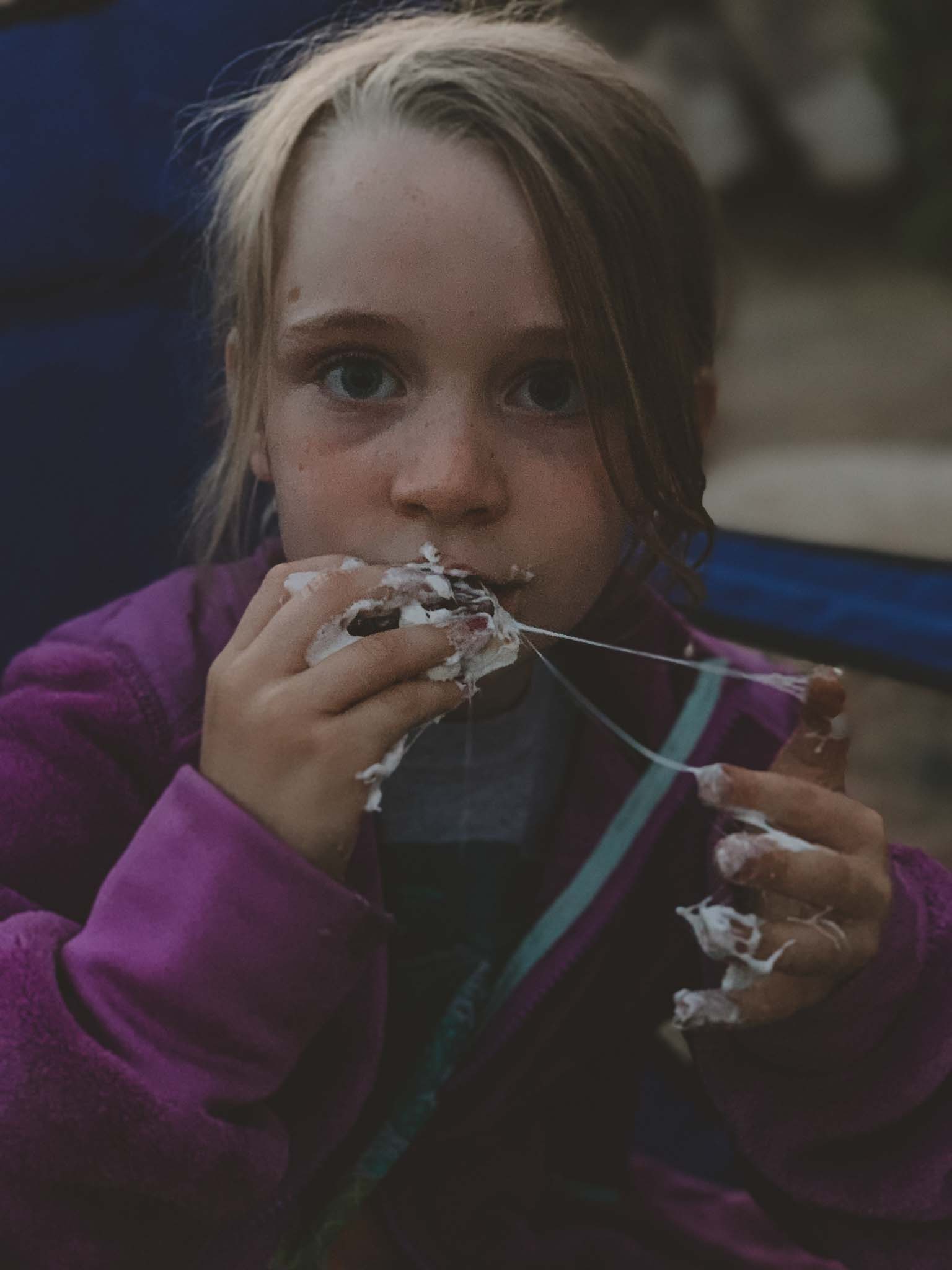 Getting Marshmallow-y at Ryan Campground, Joshua Tree National Park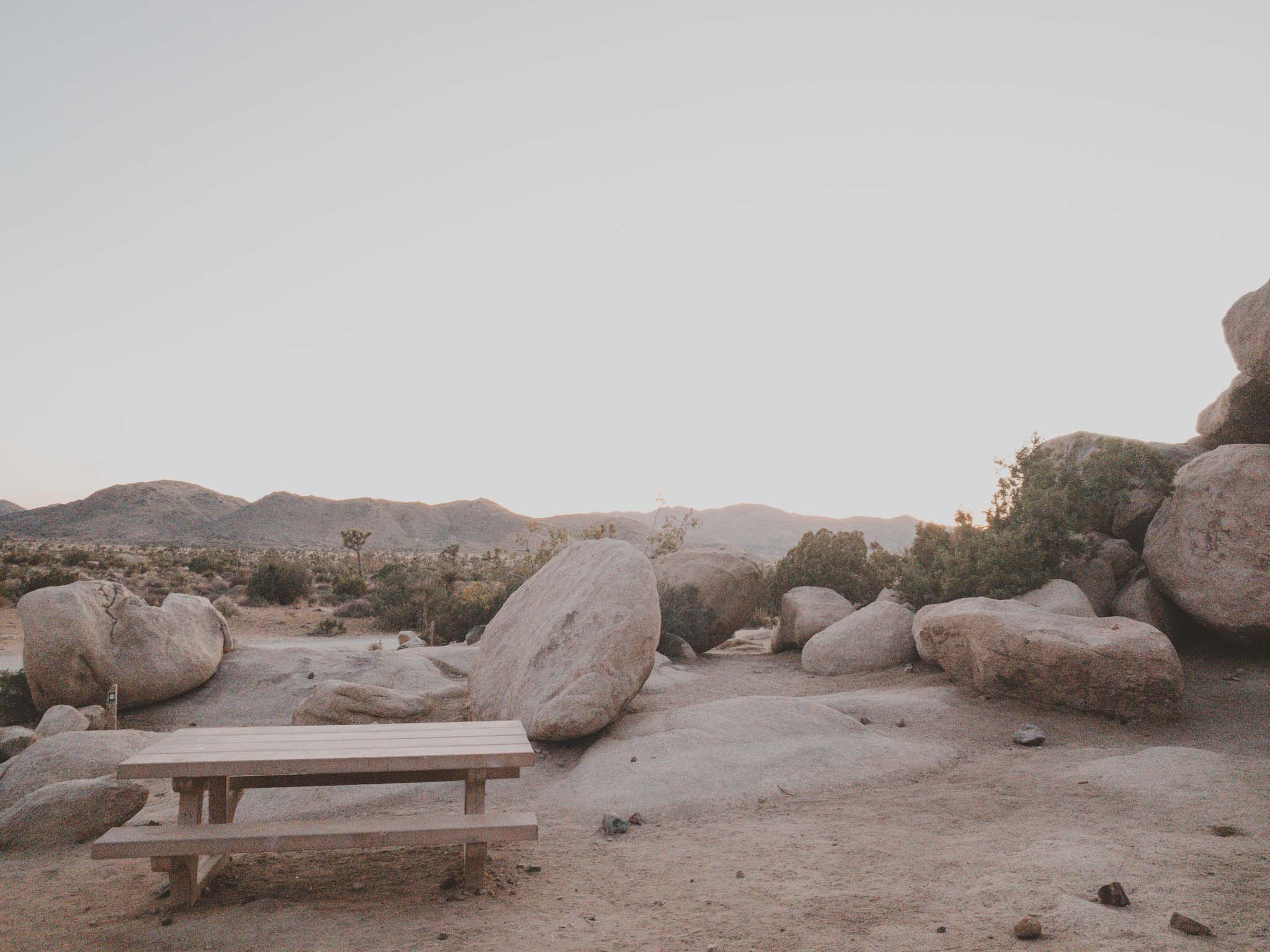 Site 11 at Ryan Campground, Joshua Tree National Park
AND NOW, ONTO ADVENTURING!
The Mojave Desert has abundant adventures for the wild soul. From hiking to dining to shopping, to sound healing and vintage quirk, out here there is something for everyone.
Let's start with hiking, both inside of and outside of the National Park. NOTE: When hiking in the desert, it's important to dress in layers and bring snacks and plenty of water. The temperatures can be extreme and change from hot to cold very quickly.
Just outside the national park, you'll find Desert View Conservation Land that's free to hike, mountain bike, and explore from sunrise to sundown. As close as it is to the park, it's very secluded and you may be the only people there!
Put 62539 Onaga Trail, Joshua Tree into your GPS and that should get you there. Otherwise, head south on Park Blvd from Joshua Tree and watch for Onaga Trail on your left. It's a dirt road, so make sure your vehicle can handle it, but no 4wd is needed. About a mile down you'll find a parking area and trailhead.
Inside the National Park, there are countless hikes to explore. Here are a few of our faves:
Barker Dam – A relatively easy loop, but this is at a higher elevation (around 4,200 ft.), so you might feel more winded than usual. There are beautifully preserved petroglyphs if you follow the signs to find them. Plenty of rocks for scrambling and going off path, too – but be careful to orient yourself AND bring snacks and plenty of water.
Ryan Mountain – a fun, moderately difficult climb up to the highest point in the park, yielding incredible 360-degree views of the desert landscape.
Ryan Homestead – an easy, short hike to the ruins of the Ryan Homestead
Scroll through the images below for some of our snaps from these hikes (click to see the locations):
On a recent private client retreat, we booked a private herbal medicine-making walk in the National Park with local herbalist Christina of Every Leaf Speaks. She was highly knowledgable, funny, and shared not only a well-informed western herbal perspective, but offering respect and honor to the people indigenous to this area, including the Cahuilla, Chemehuevi, Mohave, and Serrano people. 
If you have a chance, this was a great experience that I totally recommend.
Next, for a totally unique adventure, the Integratron offers a sound bath experience you're unlikely to forget. It's well worth the drive out to Landers (about 30 minutes from Joshua Tree) – but make sure you follow their website's directions and not your GPS.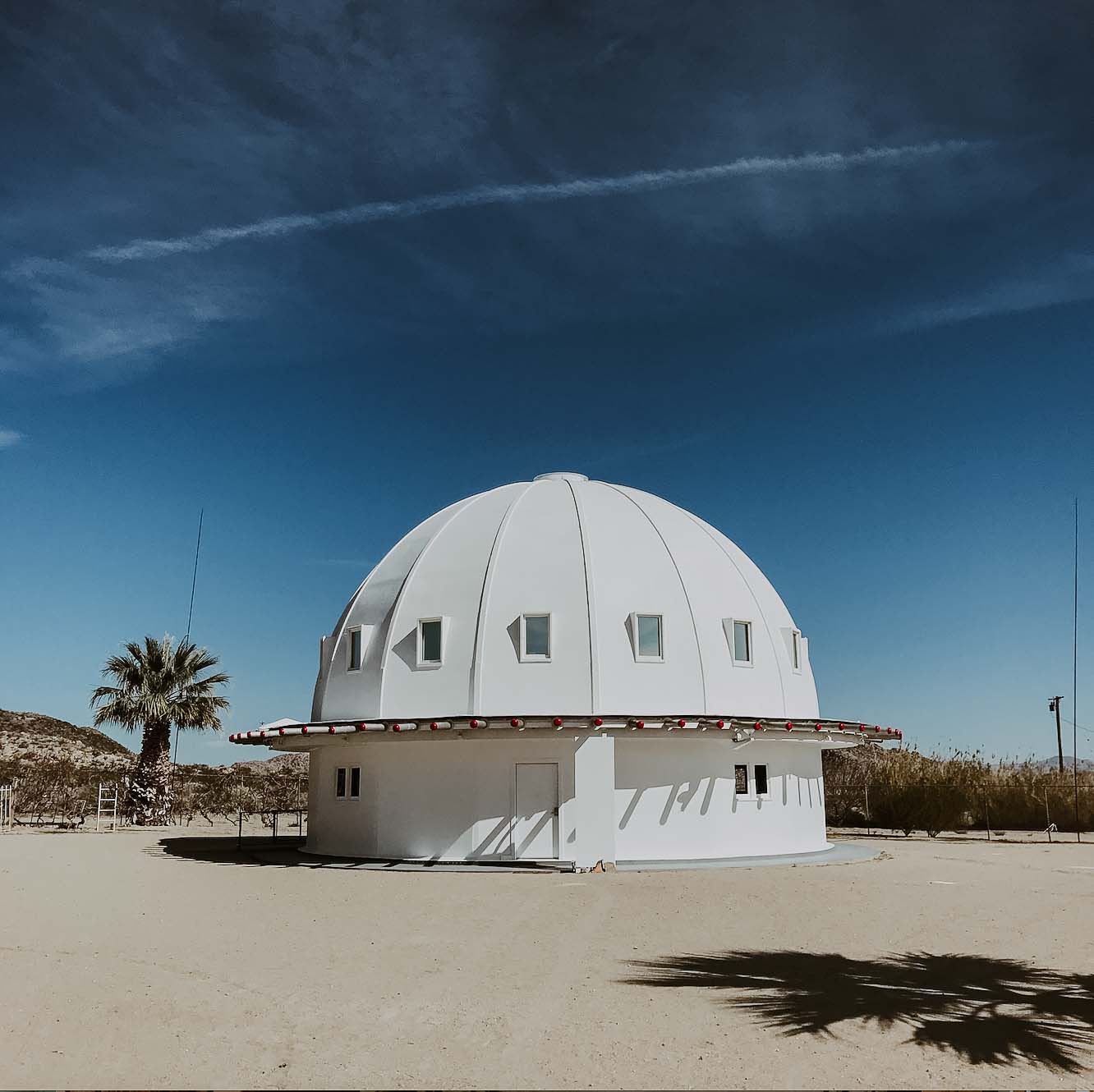 The Integratron, Landers California
The Integratron's dome has incredible acoustics. I've been to many sound healings and I've never felt the vibrations of the crystal bowls the way that you feel them in this space. They practically sing YOU into a new frequency.
Each 60-minute sound healing session includes an introduction to the fascinating history of the building and a 35-minute immersive sound bath.
You can attend a public sound bath, or reserve the space for a private group, as I've done for my retreat groups in the past.
After your session at the Integratron, hit up Noah Purifoy's Desert Art Museum on the way back into town.
This outdoor series of art installations will have you wondering whether his work is a commentary on the degradation of an already-bankrupt culture, or if it's just the desert elements, having their way with things.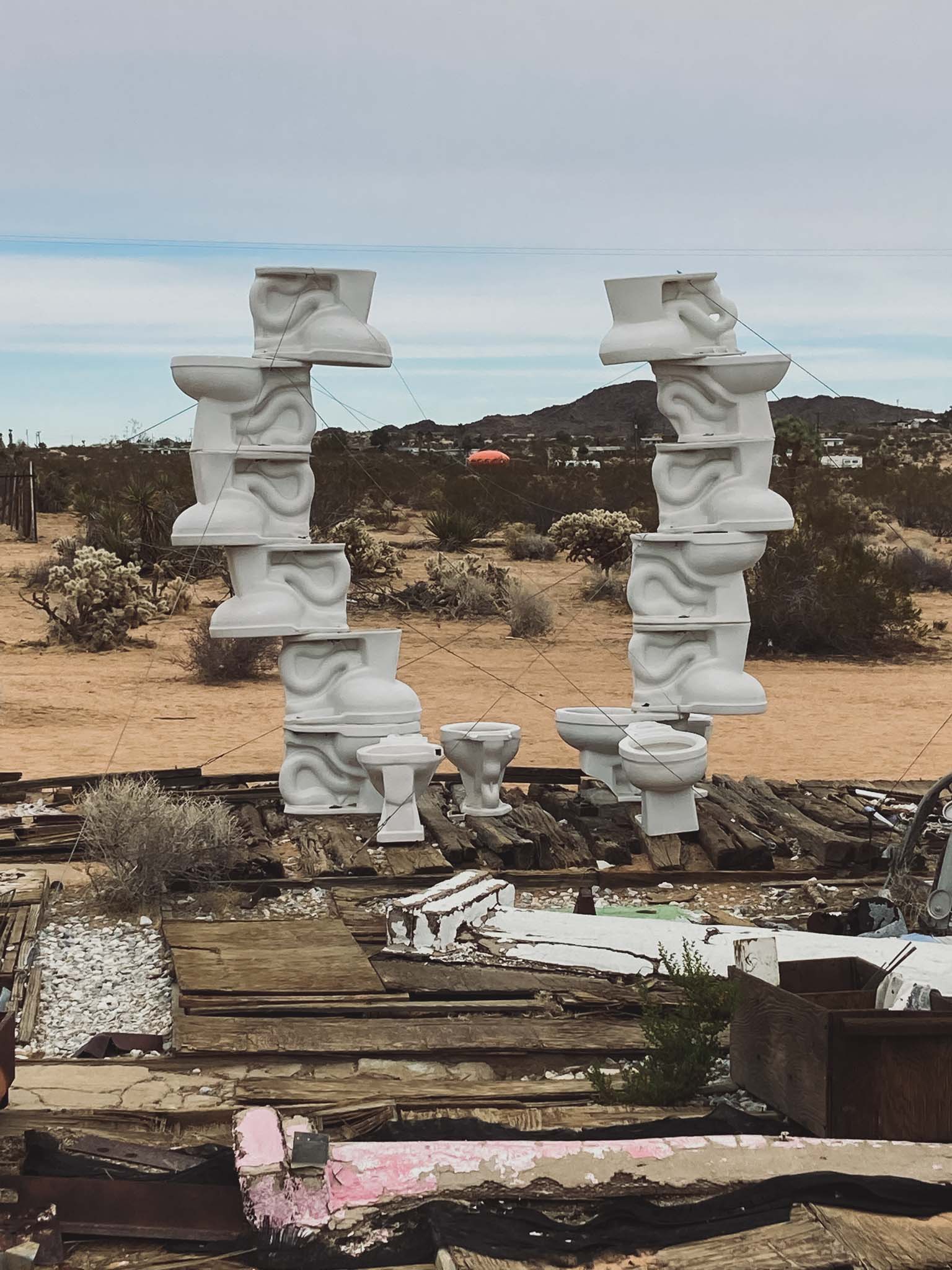 A royal arch of thrones at Noah Purifoy's Desert Art Museum. Photo by Jason Yocum.
SHOPPING
The high desert IS a vibe unto itself, and the local shops definitely reflect that. If you're limited to the space in your airplane luggage, your budget may thank you – otherwise, beware! There are many tempting and totally amazing finds in store for you here.
My personal favorite shops are in the town of Yucca Valley. You can park in the little parking lot at Acme 5 Lifestyle and wander the block on both sides of Highway 62.
Acme 5 is my stop for all things ceramics, home goods, and jewelry by local desert artisans. Even if you don't end up purchasing anything, the space itself is FULL of inspiration. When I'm on retreat, I like to bring back something to anchor the experience in my daily life, and Acme 5 is often where I'll find that talisman.
I also love The End for it's wild vintage clothing, more jewelry finds, and fun desert takeaways like iron-on patches, stickers, and mystical objets.
Both shops also feature beautiful street art that make for some fun social media image backdrops.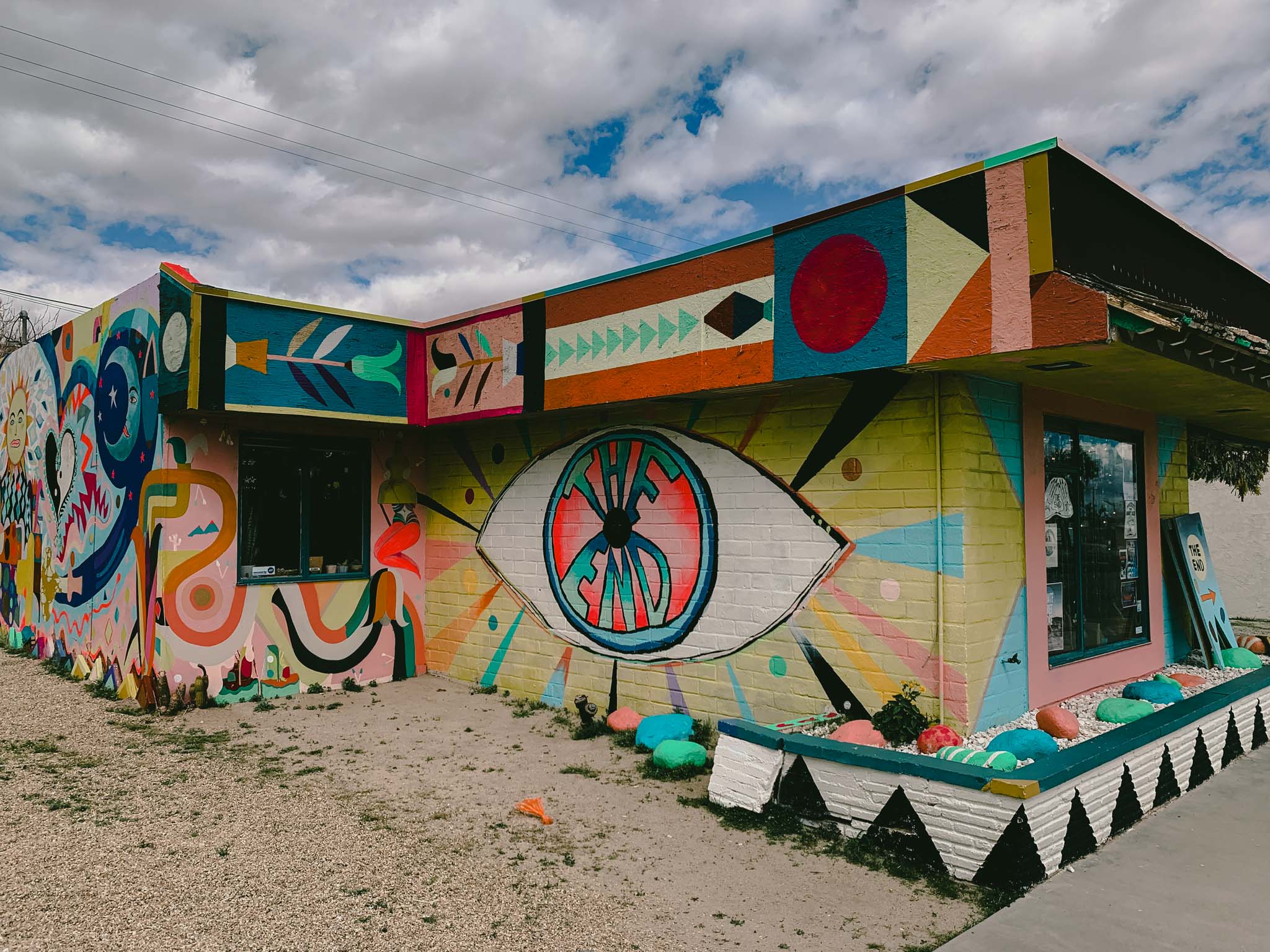 Another Yucca Valley fave is Holistic Ranch – a relatively new shop that's focused on regenerative sources for food, skincare, and clothing, as well as The Hoof and The Horn which has everything from snarky gifts to boho-style clothing (with a fairly reasonable price tag, too).
On the way into Joshua Tree, stop by Grateful Desert Apothecary for their selection of local herbal remedies. Anything made with Larrea tridendata is a fave.
In Joshua Tree, I recommend exploring the street market when it's happening, and the complex of art installations, shops, and vintage strangeness in the Sun Alley Shops nearby.
Art Queen features the Silk Screening art of Shari Elf on vintage clothing, in addition to fun stickers and art prints. Nearby you'll find her World Famous Crochet Museum which is wonderfully weird.
I also recommend checking out nearby Pioneertown, home to famously funky food and music venue Pappy and Harriet's and the Maz Amar ceramics studio which features the stunning work of local ceramic artisans.
In addition to these fun places, Pioneertown makes for a great backdrop for photoshoots.
Ohhh, and speaking of photoshoots… 
The potential outdoor locations for photoshoots here are literally endless. Once you enter into the National Park, you can pull over just about anywhere, hop out of the car, and carefully walk out to any spot that calls to you.
But, be aware that the desert ecosystem is extremely sensitive. Watch where you're stepping and avoid trampling delicate plants underfoot.
DINING
While we mostly prefer to bring in groceries and cook our own meals while staying out in the desert, we'll often head into town for a meal or two. We've eaten at most of the places in Joshua Tree and Yucca Valley… And the one we keep coming back to is Crossroads Cafe in Joshua Tree…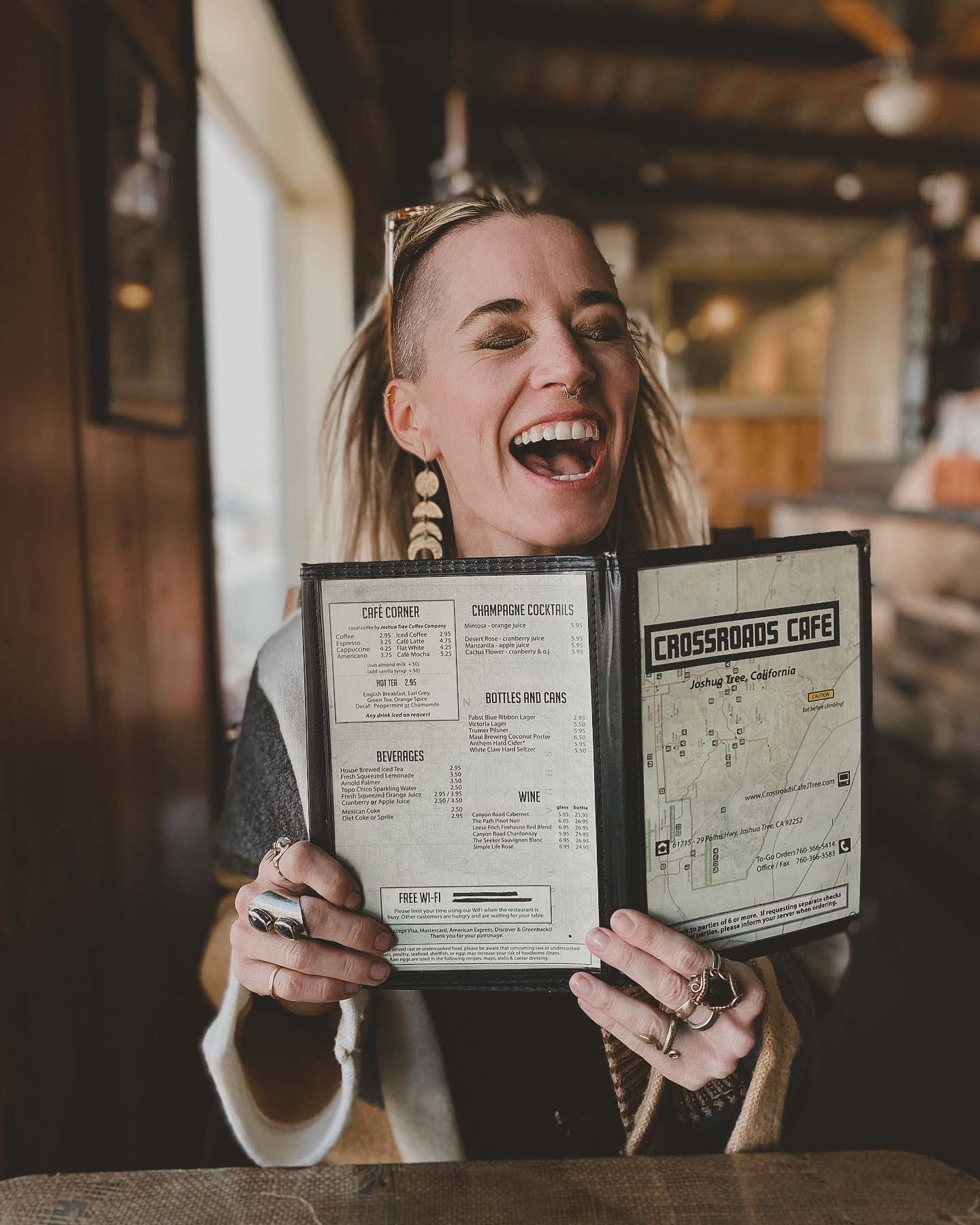 Very excited about my Rueben on Rye and Chicken Cilantro Soup!
They have great hearty diner-style fare (delicious after a hike) and are warmer than the mostly outdoor Joshua Tree Saloon. But, if you're in the mood for a burger and beer, the saloon is definitely where you'll want to head!
We've also enjoyed Sam's Indian Food in Joshua Tree (we went for the Indian food, not the pizza, which is also on the menu, interestingly)… And local vegetarians swear by Natural Sisters Cafe, but we haven't stopped in to try it out yet.
THE WRAP UP
The Joshua Tree area is a personal haven and another client-favorite place to sink into the magic that happens on our immersion retreats.
If you're looking to adventure to Joshua Tree, but want your journey to be part of an all-encompassing life transformation rather than a fun-but-fleeting memory, reach out to me about becoming a private client…
I'll help you re-design every aspect of your life to be truer and more aligned with who you are on the inside. Learn more about my unique coaching packages here.