Activate the Fierce Feminine
Women's Wellness Retreat {SOLD OUT}
September 30th – October 5th, 2023
Ghost Ranch, New Mexico
"Someone else's vision will never be as good as your own vision of your self. Live and die with it because in the end it's all you have… I've been absolutely terrified every moment of my life—and I've never let it keep me from doing a single thing I wanted to do."
— Georgia O'Keeffe

Imagine for a moment… A crystal clear dark sky spans endlessly above you as sparks fly upward from our evening fire to join a splendor of stars.
You've just spent the day laughing, crying, releasing, and reclaiming lost parts of yourself with a group of grounded, down-to-earth women who will surely become some of your closest soul friends.
The desert's beauty is starting to seep into the very depths of your being. Something about its resilient nature is helping you remember who you really are…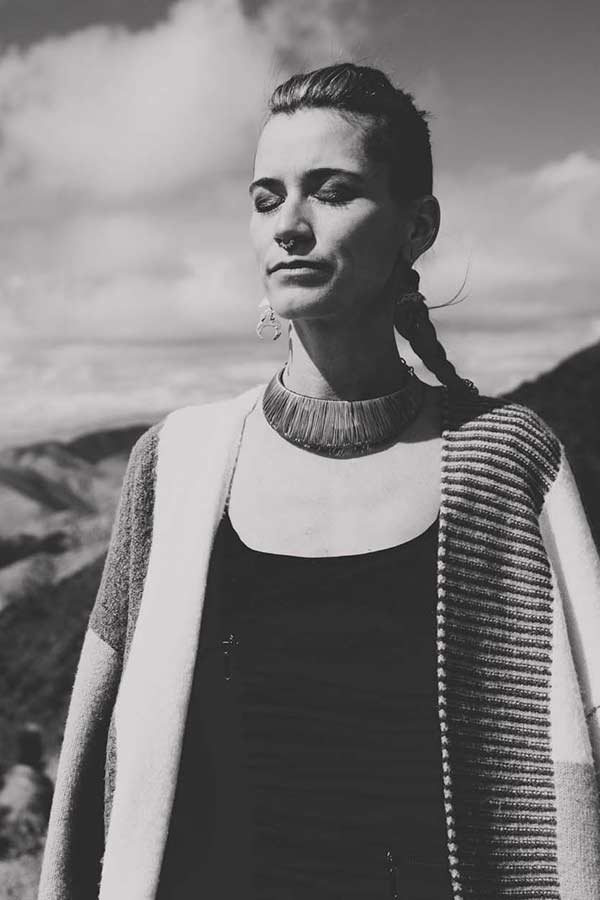 The high desert does not
apologize

…

…Not for her intensity.
…Not for her beauty.
…Not for her ferocity.
…Not for her existence.
And neither should you.
Yet, so many of us have become practiced at giving away our space. We lose touch with who we really are inside… Who we are underneath the identities our work or families give us.
We want to feel more alive, creative, inspired, and connected.
We want to bring that version of ourselves to our partners, children, and path.
But life gets in the way, and years pass by in a blink.
Does your soul  
crave

  aliveness?

If you are a woman who has lost touch with her fierce, creative, passionate, and fully-expressed soul, this year's Women's Wellness Retreat at Ghost Ranch is a chance to re-vitalize your spirit, re-write your story, create powerful friendships, and emerge with your vitality, alignment, and self-trust deeply restored.

What does embodying the fierce feminine want to look like in this next phase of your life? 
For 6 days and 5 nights, you and a small group of soul-seeking women will enjoy an immersive and restorative time at the private Casa Del Sol hacienda at Ghost Ranch.
We'll be just outside of Abiquiu, New Mexico, nestled under the same mountains that inspired hundreds of Georgia O'Keeffe's most beloved landscape paintings.
When you're not enjoying a guided walking tour that brings O'Keeffe's paintings to life or luxuriating at the famous Ojo Caliente Resort's mineral hot springs, you'll experience embodiment and art workshops, along with sacred ceremonies led by Lola L'Amour and her fabulous team.
There will be abundant downtime for rest, organic conversations, and steeping in the desert's magic.
This retreat is for
you

  if…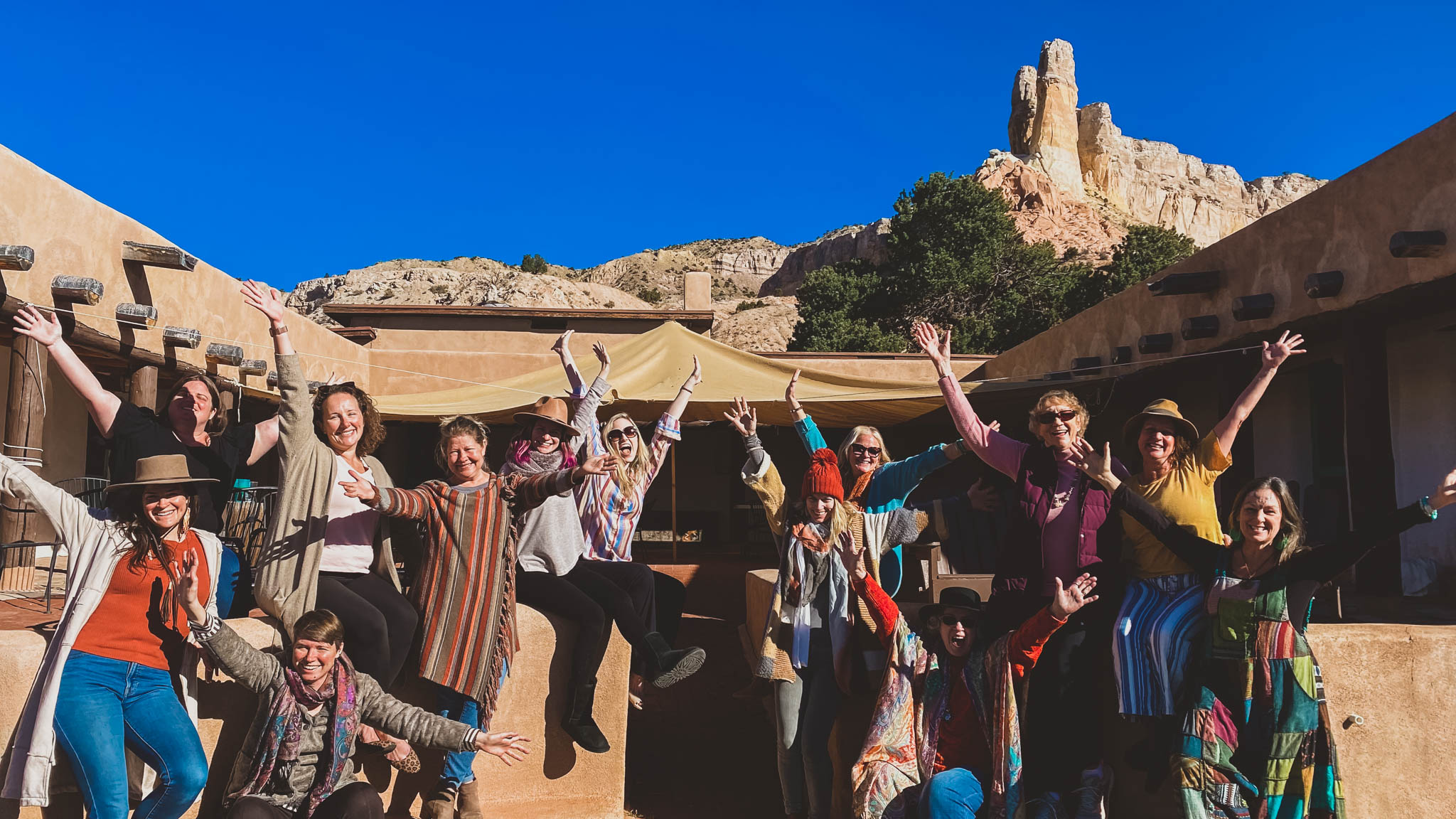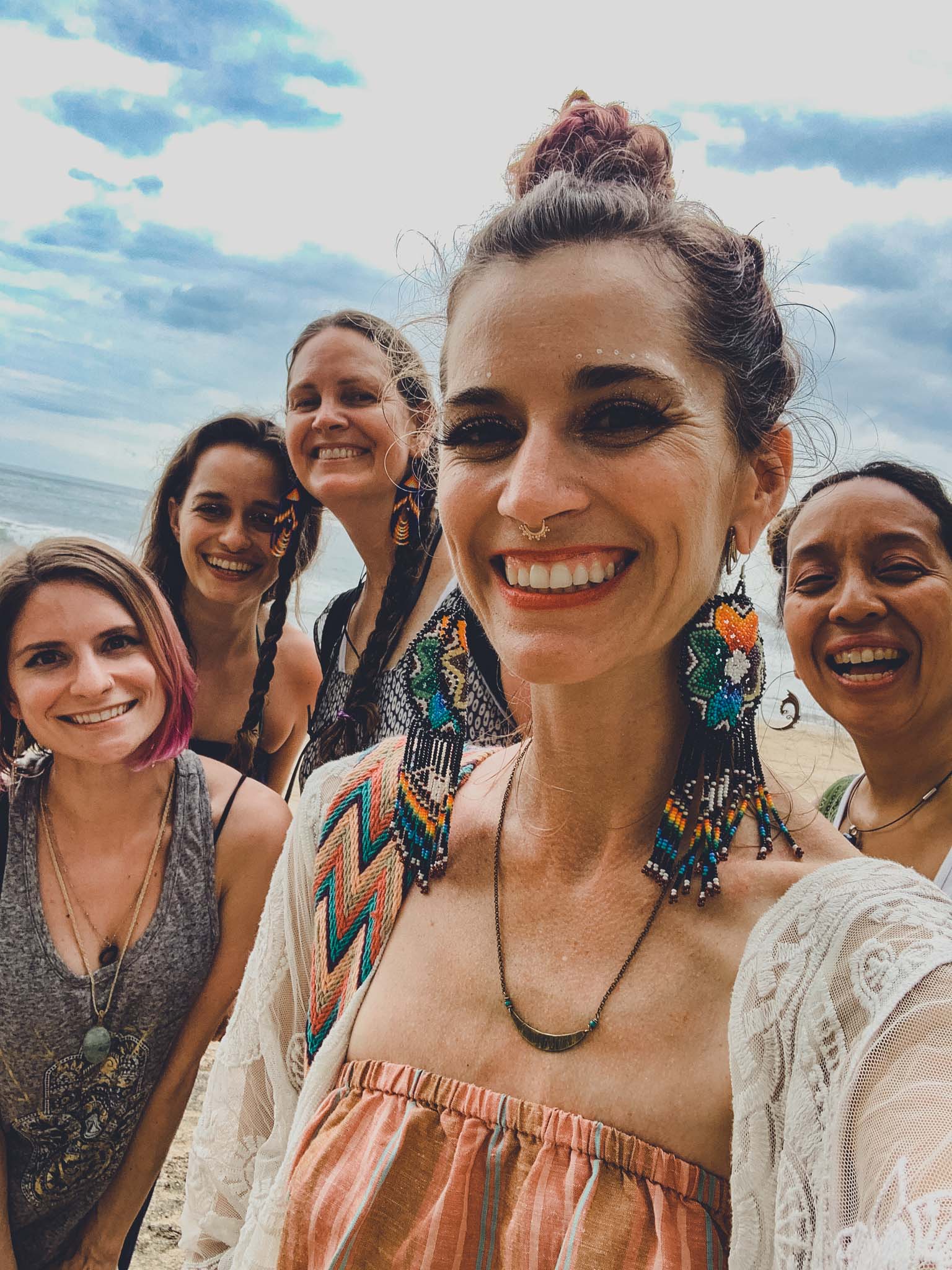 You're a woman needing an infusion of creativity and DGAF-ness
You deeply desiring a soul connection with yourself
You crave the company of like-hearted women
You're open to explore and release expired patterns of thinking
You are inspired by the life and art of Georgia O'Keeffe
You looooove the desert landscape and aesthetic
The Deets
When: September 30th-October 5th, 2023
Where: Ghost Ranch (near Abiquiu, New Mexico)
Your Ticket
Includes

:
(Excluding airfare)
Lodging at our Albuquerque landing pad and at Casa del Sol
All meals at the retreat houses
Group shuttle from Albuquerque to Ghost Ranch and departure Airport drop-off
Spa day at the Ojo Caliente mineral hot springs
Walking with O'Keefe guided landscape walk
Tickets to the Georgia O'Keeffe museum in Santa Fe
One optional nighttime sacred plant ceremony circle
Daily embodiment and creativity workshops with Lola
Gifts and surprises!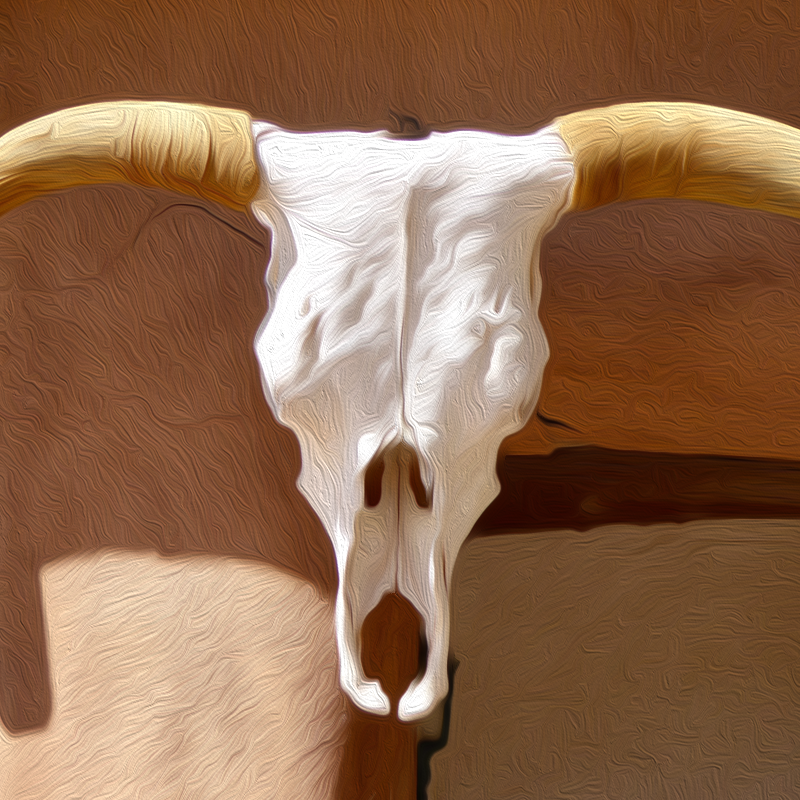 Two miles away from the main Ghost Ranch facilities, Casa del Sol is part of the gorgeous and mystical homestead of creative artist Georgia O'Keeffe. Built of local adobe in the mid 1930's, it is a retreat space designed for deeper spiritual connection to the self, the soul, and the land.
You'll enjoy a spacious common room with a fireplace and simply adorned sleeping rooms. Workshops and ceremonies will be held in the living room, anchored by the famous Cerro Pedernal — framed through a large picture window. Casa Del Sol is set against the base of a rainbow-hued 700-foot cliff; its chimney standing guard above us.
Nearby, a heart-shaped labyrinth invites reflection, bordered by prayer ties and flags fluttering in the wild wind.
Meet Your
Guide
Lola L'Amour has been leading wellness and transformational retreats for over 9 years, both in the United States and abroad. Her mission is to help her clients feel, trust, and know that they CAN embody and receive true love.
As an experienced and heart-centered ceremonialist, she believes that when you're in an aligned and beautiful environment, the healing you seek occurs with more ease and delight. She is a catalyst, a life + space designer, a priestess, a lover of life, a wife + mother, and a champion of the fierce feminine.
On this retreat, Lola is excited to share her irreverent, practical, and deeply soulful ways to live authentically and trust that you are worthy. Together, we'll be practicing the art of giving "less f*cks" about the things we can't control, while going ALL IN on our one wild and precious life.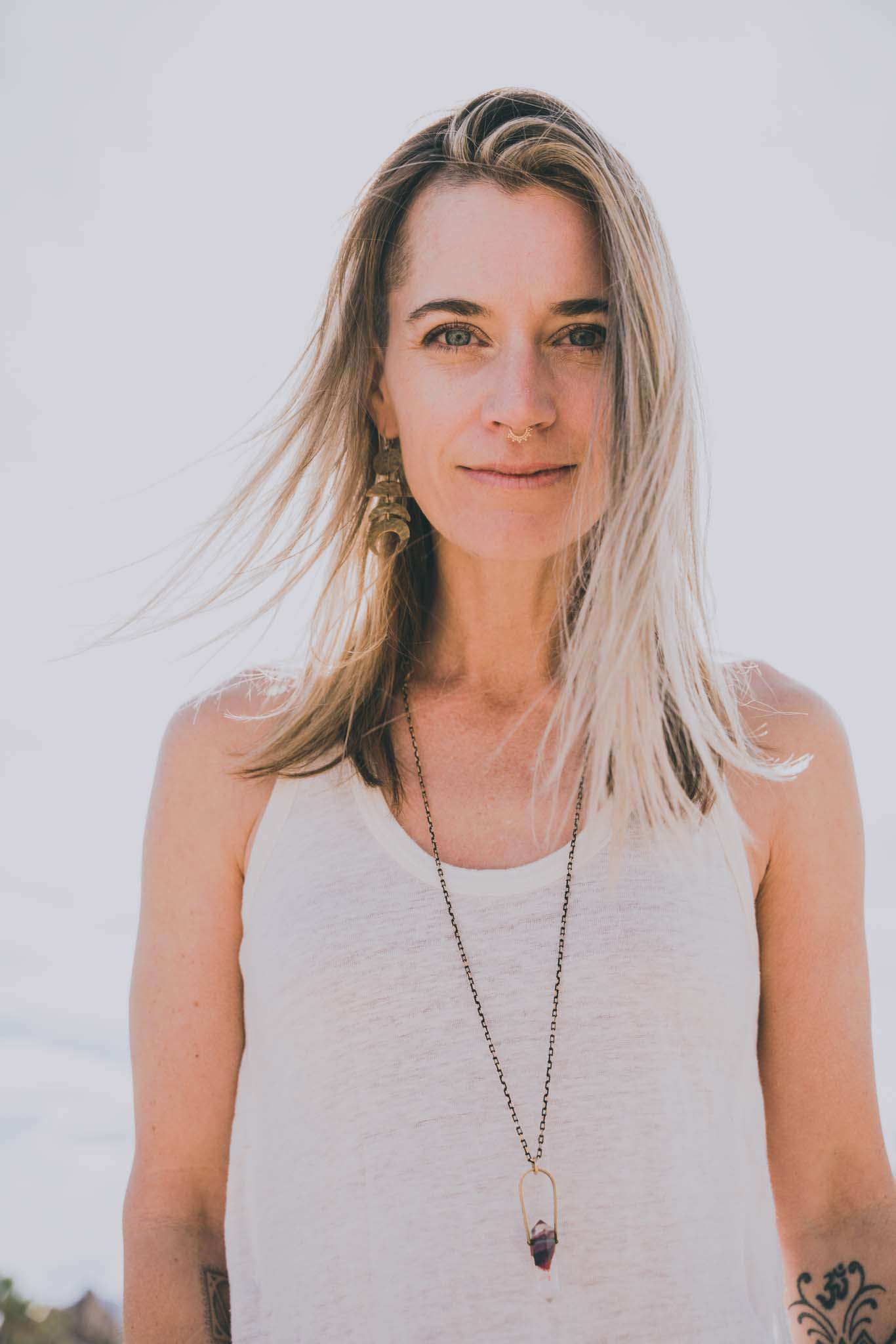 "Although I've had the pleasure to receive guidance from Lola in the past, arriving at her retreat space was the first time I felt her magic in the flesh, and I am not exaggerating when I say the experience she created was life-altering.
Lola is so authentic in her words and actions that I was immediately at ease in her presence, and every aspect of the retreat was lovingly planned, from our cozy shelter and healing spaces to the delightful and nourishing meals. She effortlessly owned her power as our leader while remaining on our level to keep us safe every step of the way, and her true gift as a healer was evident in every breath, song, and touch that moved through her during our medicine ceremony.
The space Lola held allowed us all to embark upon a journey that had us opening, shifting, and releasing in ways we never could have imagined, and I left the desert with a full body knowing of truths I had only glimpsed before – a knowing I trust has been imprinted on my soul."
Your Investment
Private room: $3,888 (sold out)
Shared room: $3,111 (sold out)
Pricing is per person. 
Your space is guaranteed with a $500 deposit. Within 24 hours of receiving your
pre-retreat questionnaire, Lola will be in touch to confirm your place.
Once confirmed, she'll collect and process your deposit.

What To Bring
Comfortable, layered clothing for movement, nature walks, and outdoor enjoyment.
Ceremonial outfits and accessories (aka a soul expression outfit or two)
Closed toed shoes suitable for the great outdoors
A hat for sun protection
Warm jacket for nights around the outdoor fire
Personal toiletries
Water bottle
Flashlight or headlamp for adventuring
Sunscreen, lotion, and chapstick (it's very DRY in the desert!)
Journal or sketchbook + pen
Phone charger cable + portable charger pack
Anything you'd like to (temporarily) add to the retreat altar
More packing specifics will be sent out to the group prior to departure.
Flights + Shuttle
To take advantage of our group shuttle:
Plan your arrival into Albuquerque International Airport (ABQ) anytime on September 30th, 2023.
You will be responsible for transportation from the airport to our Albuquerque landing pad AirBnB. (It's about 30 minutes away and we can help you coordinate a group lyft/rideshare with other guests.)
Plan your departure out of Albuquerque for

3pm or later

on Thursday, October 5th. Our group shuttle will take you from Ghost Ranch to the airport.
Frequently Asked
Questions
Do I need to be a Woman to attend?
Yes. The intention of this retreat is to support women in connecting both to their true selves and with other women who are like-spirited. We use the term "women" to include all humans who identify as a woman, including non-binary and trans women.
For many women, friendships with other women have been charged, toxic, and damaging. It can be hard to trust that other women will truly have your back and will welcome and receive you for ALL that you are; your light and  your shadows, your gifts and your imperfections.
Women need a sacred space to recalibrate, amongst others who understand the unique beauty, joys, and frustrations of life as a female. I believe that when women suffer, our society as a whole suffers…  and when women heal, our society heals.
If you are not a woman and desire a similar experience, please make sure you're on my email list to stay in the loop about other upcoming retreat offerings.
What will be the group size?
We have a maximum of 12 spots to offer for this retreat.
There will be plenty of opportunities for both interaction / connection time as well as space for solitude and reflection.
After the retreat sells out, we will open a wait list in the rare case that there's a cancellation and a space reopens.
How does the arrival process work?
We have reserved a stunning off-grid retreat home in the Sandia Mountains above Albuquerque for the first two nights of our retreat.
This allows you to arrive at your leisure on the first day, without rushing, worrying about missing a shuttle, or having to spend the night prior at a local hotel. You'll simply arrive to ABQ and arrange for an uber or lyft to transport you to our space. It's about a 30 minute drive from the airport, and although it's a rustic road, it's definitely drivable by regular vehicles. We'll send easy-to-follow driving directions to make sure you arrive seamlessly.
We can assist with coordinating ride-shares amongst our group, once we know everyone's arrival schedules.
Do I need to be vaccinated for Covid to attend?
No vaccinations are required at this time.
What type of plant medicine ceremony is included?
On Tuesday evening, there will be an optional nighttime journey with Psilocybin Mushrooms. Lola has been working with and serving this medicine for many years and she creates a powerful healing container with songs, percussion, and prayer.
Her ceremonies are a distant departure from a "party" experience and facilitate a reverent remembrance of what it means to be a human on this earth. All guests who wish to participate will be pre-screened for safety.  
If you do not wish to participate in the ceremony, you'll be free to spend this time in quiet reflection.
What is the cancellation policy?
If you need to cancel your space before July 31st, 2023, your deposit and any additional payments made will be refunded to you in full.
50% of your deposit and payments will be refunded if you need to cancel between August 1st and September 1st, 2022.
There will be no refunds for any cancellations after September 1st, 2022. 
Is there a payment plan?
Yes! If you will not be paying in full, your payment plan schedule will be as follows:
Payment #1: 1/3 of remaining balance due by May 30th
Payment #2: 1/3 of remaining balance due by July 31st
Payment #3: 1/3 of remaining balance due by September 1st 
The total balance must be paid in full by September 1st, 2023
How can I get my partner on board with me doing this?
It's important to feel supported in your decision to come on a journey like this… And, as I remind many of my private coaching clients, asking for support is not the same thing as asking for permission. 
As an adult woman, you do not need permission to follow your heart, but you DO need support from the important people in your life – both emotionally and practically (especially for essentials like transport and childcare).
Support comes more easily when there is a plan and structure already in place. Be thinking to yourself, how can I make this an easy yes for my partner?
If you have children, are there childcare arrangements you can make ahead of time?
How will your relationship benefit from you returning feeling juicier, more alive, and re-inspired?
How will your life shift when you come back even more equipped to handle challenging scenarios with your family?
Sitting with these questions will help you ask for —and receive — the support that you need to say YES to this experience.
(I'll also help you work through them in the pre-retreat questionnaire below).
Lola

… I want in!

Wonderful! Your next step is to fill out the pre-retreat questionnaire. Your answers will help make sure that the group chemistry will be juicy, aligned, and healing for all.

Lola will respond with any additional questions and/or the deposit link within 48 hours of receiving your form.
When you say yes to something like this, it can change your whole life…
Lola has given me so much love and power, and she's shown me what I already HAVE inside myself.
This was the most fun, awakening, and incredible experience that I've ever had! If you're looking to find yourself, and you're apprehensive about whether a ceremonial retreat can help you…
Please know that there is nothing more enlightening and inspiring than this type of experience with Lola.
There's a certain magic that happens when you come together as a group with all these people who just said YES & trusted their inner knowing…
Knowing that I will forever have this group of beautiful souls in my life makes me feel held and cared for and loved.
"I am taking home so much fertile, creative, life energy from this experience!"
— Katherine A.
Asheville and Costa Rica Retreat Attendee